Article
A quirky flu: did you know these six influenza-related mysteries?
The seasonal flu knocking at the door is an annual scourge for Finns. But there are still unanswered medical questions and mysteries surrounding the familiar disease, says Emil Heinäaho, a general practitioner at Terveystalo.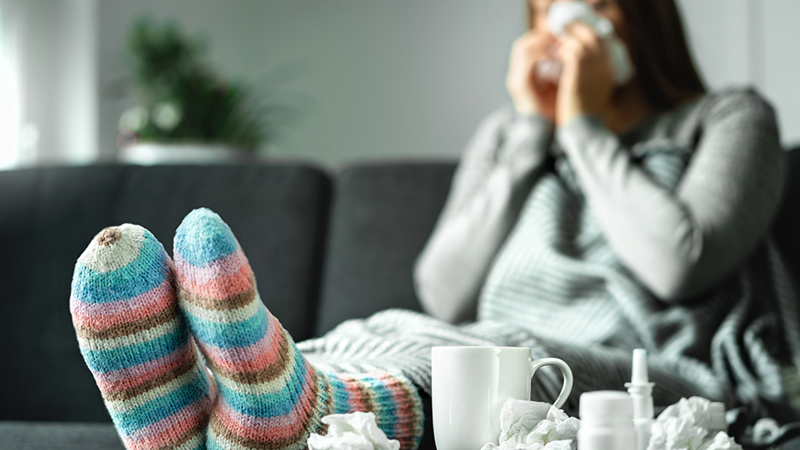 1. Influenza infects one in two people, of whom one in two develops symptoms
Influenza can spread when people are in close contact with each other. However, only one in two people who catch it will show symptoms.
– The amazing thing is that we still don't know why one person gets sick and another doesn't. Or why one person gets symptoms and another doesn't. For example, there is some evidence that having had influenza as a child can affect how the body reacts to the disease as an adult. We also know that people at risk have more severe flu symptoms and more severe after-effects, says Emil Heinäaho, a specialist in general medicine.
– The coronavirus also works in a similar way: about a third of people get coronavirus without symptoms. And now we are trying to study what happens in the bodies of these asymptomatic people when the coronavirus strikes, Heinäaho continues.
2. Seasonal flu is different every year
– We cannot know in advance how severe or mild an epidemic will be, says Heinäaho.
The influenza virus changes rapidly to evade our body's defence mechanisms.
– That is why the flu vaccine is made with the virus strains of the virus that are expected to cause the next season's epidemic. So a vaccine given last year will not protect against the coming flu.
3. Asymptomatic people most likely to spread flu
– What makes influenza particularly tricky is that the people who spread it most are those who are infected but not yet symptomatic. This means 1-2 days before symptoms appear. We don't know exactly why this is. But this is why it is important for people in good health to be vaccinated against influenza, as this not only protects them, but also, for example, their close contacts who are at risk.
The next vulnerable period is the third day of symptoms: this is when the symptoms are usually at their worst.
4. It is difficult to develop a specific cure for influenza because the viruses mutate
– In general, you just have to live with the disease and get sick, as it remains difficult to develop an effective cure. The use of antiviral drugs is therefore very limited, for example if a person has a weakened immune system. But they are not very effective: at best they can reduce symptoms for a day or two if started early enough.
In fact, the vaccine is completely superior in the fight against influenza.
– Although the vaccine does not provide 100% protection against infection, it does reduce symptoms. The larger the proportion of the population that receives the flu vaccine, the more effective the protection will be, Heinäaho continues.
5. Influenza causes more pneumonia than the common cold
– Influenza causes more pneumonia than the common cold. We do not know exactly why. However, influenza is a real nuisance, and the worse your body is (e.g. because of smoking), the worse the consequences can be.
The most common consequences of influenza, apart from pneumonia, are sinusitis, myocarditis and meningitis. In children, ear infections.
6. Flu can be hard to tell apart from other illnesses, but muscle aches and pains can tell you a lot
Flu tests are carried out at the doctor's surgery between October and November to check the progress and prevalence of the seasonal illness. Once the disease is circulating, the virus is usually no longer tested.
– Treatment is always symptomatic and does not depend on the diagnosis. However, as a doctor, I pay particular attention to the patient's muscle symptoms. It is likely that influenza causes more muscle pain than other diseases because the severe symptoms of influenza activate the immune system so that the muscles become inflamed, Heinäaho concludes.