News
Terveystalo's renewed online service now has everything you need for a smooth useage of occupational health services
The Terveystalo app has now been complemented by a renewed online service, where you can easily find all the services related to occupational health in a single login. Once logged in, the occupational health services are accessed via a secure connection, by first authenticating to the service electronically using bank details or a mobile certificate. The renewed online service includes upcoming bookings, open referrals, preparation instructions and examination results, occupational health questionnaires, sickness absence certificates and possibility to contact your company's dedicated occupational health team.
– As working life becomes more diverse, the new online service has been developed with particular attention to accessibility and multilingualism to make it as easy as possible for everyone to use. The service scales well to different sized screens and works not only in Finnish but also in Swedish and English, says Product Owner Sanna Solala, who is responsible for service development.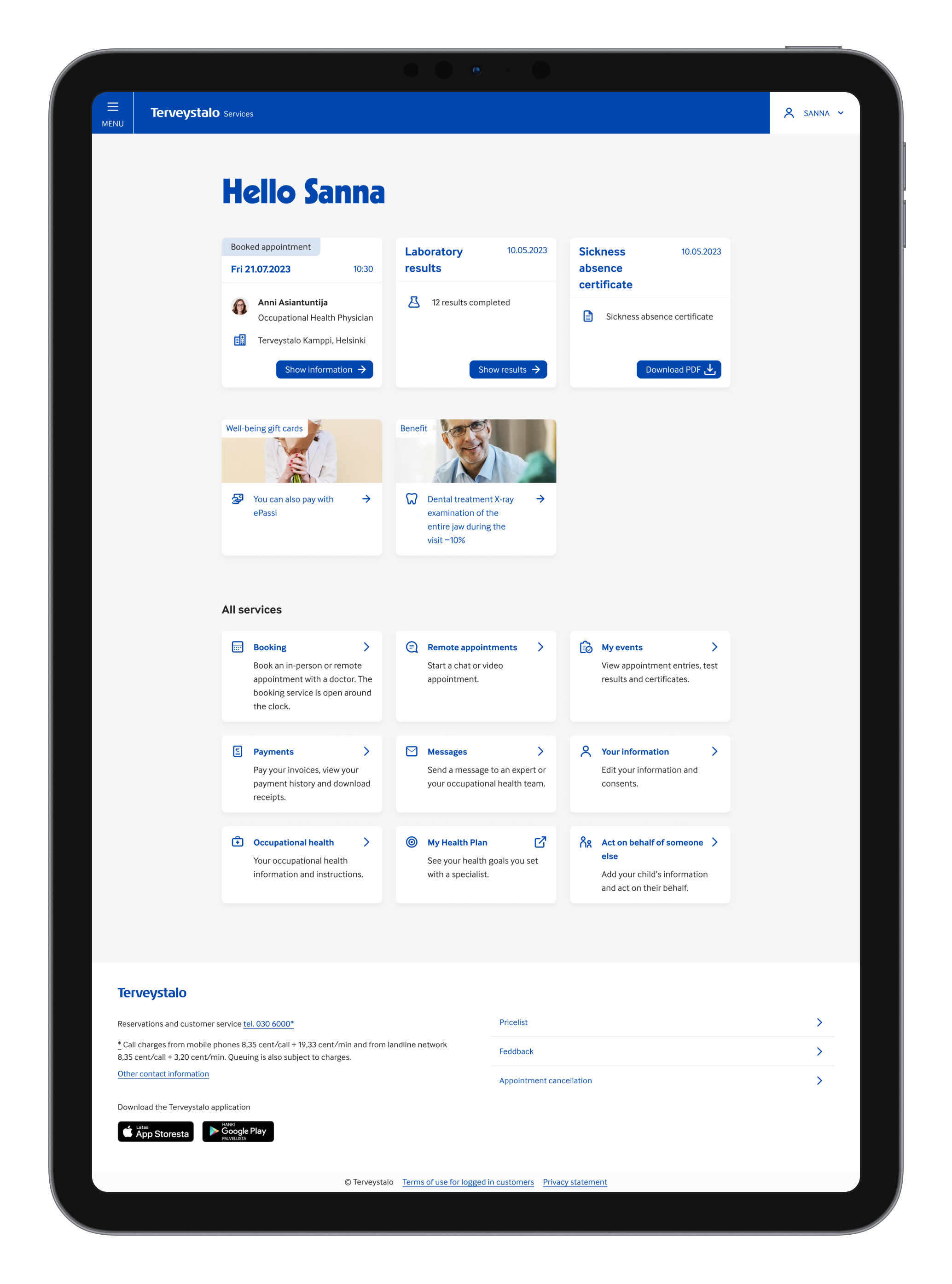 – The new front page of the online service makes it easier to get around, as it contains the most up-to-date and actionable information for the customer, such as booked appointments, referrals, lab results, sick leave certificates and notifications of new messages, Solala says.
Update your organisation's internal channels with the login link for the new online service
Previously, Terveystalo's electronic channel was the OmaTerveys (MyHealth) service, whose functionalities have now been transferred to the new online service. There are still redirections to OmaTerveys (MyHealth) service in the internal communication channels of Terveystalo's customer organisations, so we recommend updating the login links to the new online service.
You can find the new online service here: https://www.terveystalo.com/en/e-services/log-in/.
All functions and services of the new online service can also be found in the Terveystalo app. The new online service and the Terveystalo app will be developed together so that in the future all new functionalities will be released simultaneously on both channels.