Investors
Terveystalo's strategy
Our purpose is to fight for a healthier life . Our vision is to use data and our Nordic expertise to create a world with fewer sick days and more healthy, happy years.
To realize our mission and vision and to support our success, our strategy sets out two key targets for 2021–2025:
To be the most profitable private health care operator in the Nordic countries
To be the preferred choice of customers and professionals
Expansion in well-being services and strategic, complementary acquisitions are also key aspects of Terveystalo's growth strategy.
To achieve these targets, we have defined strategic focus areas that will take us towards our strategic objectives.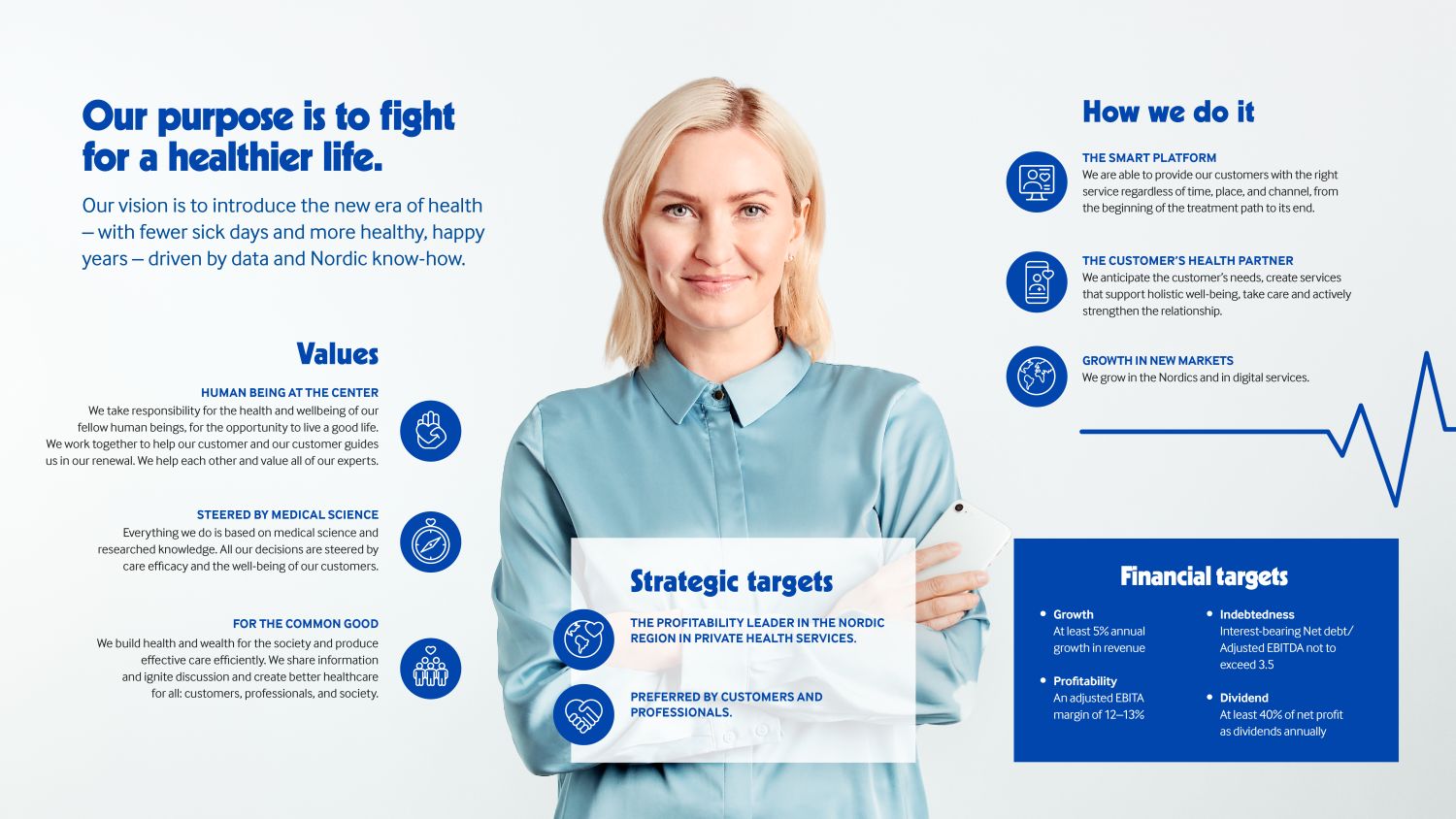 The smart platform
Our services are the most conveniently available to customers. We provide the right service regardless of time, place, and channel, from the beginning to the end of the care path.
The demand for novel health services, pricing models and operative models is growing, while the scarcity of health care professionals is increasing the need for more intelligent use of competence.
We are developing an intelligent service platform that will drive growth, profitability, customer satisfaction and retention. By having the smartest platform in the industry, we can provide our customers with the right service regardless of time, place, and channel, from the beginning to the end of the care path. The optimization of customer guidance and the personalization of services enable us to not only make more efficient use of our resources but also improve access to care, clinical quality, the impact of our services and, consequently, customer satisfaction. The smart service platform supports the management of the customer's entire care path, which is always built using industry-leading care protocols to make it as smooth and impactful as possible.
Health partner
We anticipate customer needs, create services that support holistic well-being, look after our customers and actively strengthen our relationship with them.
In addition to treating illnesses, we want to create health partnerships with our customers and to keep in touch, anticipate customer needs and provide holistic well-being services. We use digital solutions to make the use of our services convenient and attractive, to increase customer retention and to provide a platform for continuous health partnerships and personalized services. The Terveystalo mobile application already has over 1.2 million users. We are also adding new low-threshold well-being services to our offering and developing services that suit the various life stages of our customers.
Expansion to new markets
We will achieve growth in the Nordic region and in digital services.
Terveystalo is the largest private health care provider in Finland and the clear market leader in occupational health in the Nordic region. Our growth potential in our domestic market is starting to be limited, which is why we are now looking at new markets.
The Nordic region is a natural choice for our international expansion. The acquisition of Feelgood has given us access to the growing Swedish health market through the locally leading occupational health care provider. Our goal is to grow in the Swedish occupational health market both organically and through additional acquisitions. In the longer term, we see potential not only in the good growth opportunities in the Swedish occupational health market but also in expanding the range of services in Sweden towards more integrated care chains. Our business in Sweden developed in 2022 according to our plans and revenue increased by 151 percent. We made two acquisitions in occupational health and expanded our operations beyond occupational health by acquiring Nämndemansgården, which specializes in addiction treatment.
Terveystalo is a pioneer in the digitalization of health care. We have world-class expertise in digital tools for customers and professionals and we have made long-term investments in their development. Terveystalo is in a good position to also leverage these competencies in other markets and thereby create significant added value for various stakeholders.
In October 2022, Terveystalo launched a profit improvement program to speed up the achievement of strategic and financial goals The program aims for an inflation adjusted, annualized run-rate EBITA improvement of at least 50 million euros by the end of 2024. Most of the targeted benefits are estimated to be realized already in 2023.
The planned measures of the program focus on hard cost savings, commercial and productivity-improving measures to increase revenue, as well as strategic development measures to increase supply and strengthen the sales margins.
The change in the operating model was one of the first concrete steps of the program. The changes made clarified roles and responsibilities and strengthened the independent, efficient management of separate businesses and the implementation of intact care pathways and high-quality care. The new organization consists of three business areas: Healthcare Services, Portfolio Businesses and Sweden.
Healthcare Services is fully responsible for all the services we produce in our clinical network for all customer groups. In Healthcare Services, Terveystalo targets high profitability and growth exceeding the market growth.
Portfolio Businesses are responsible for separate businesses with the aim of strengthening their independent development, management and value creation. Portfolio Businesses include oral health, public outsourcing, staffing services, child welfare, public digital health, massage business, rehabilitation services and interpretation services.
In Sweden, Terveystalo is looking for strong growth in the medium term.