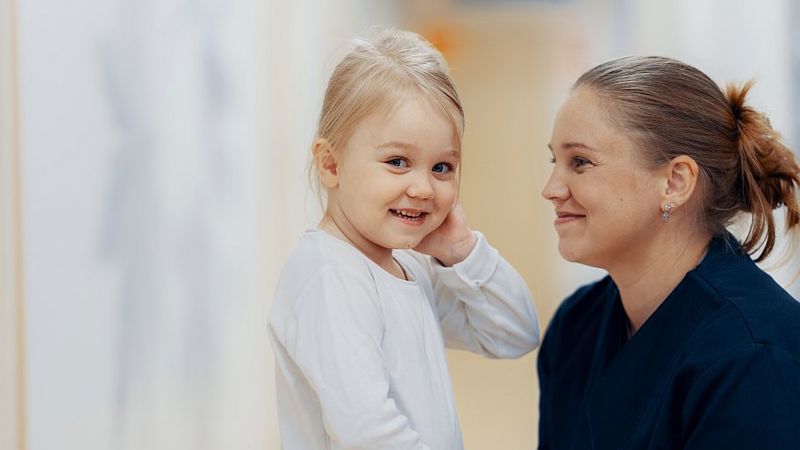 Quality and Responsibility
Responsible work
At Terveystalo, our mission is to fight for a healthier life. To realize our goal of being a pioneer in the health care industry, we continuously develop our thinking, our competence and our working methods. We give health care professionals the opportunity to join a multidisciplinary community of top talents, a team whose members help each other succeed. In line with our values, we always focus on people and work toward the common good. Our strategic goal is to be the best and most attractive employer in the industry for physicians as well as other professionals.
Terveystalo is a significant employer
At the end of 2022, Terveystalo's Finnish operations employed 10,100 (9,131) employees and 5,822 (5,644) independent private practitioners. In 2021, we expanded to Sweden with the acquisition of Feelgood, a local occupational health operator. In Sweden, we employed 833 (674) employees and 106 (110) private practitioners at the end of 2022.
We need many professionals to support our growth
Over the next 15 years, it is estimated that 200,000 new healthcare professionals will be needed in Finland to meet the growing need for care. Our core goal is to ensure that Terveystalo has enough health and well-being professionals to meet the growing demand and achieve the goals of our strategy. To ensure this, we recruit new professionals and strive to reduce employee turnover. We also aim to increase the number of hours worked at Terveystalo by the current private practitioners working at Terveystalo. The attractiveness of Terveystalo as an employer and the well-being and satisfaction at work of those working in Terveystalo form the foundation for all our operations. We strengthen our attractiveness as a workplace by providing professionals with interesting and meaningful work, diverse career and development opportunities, and ensuring that professionals can work smoothly and focus on what is essential. As an employer, we promise to have the best work community in the industry, to operate in a multidisciplinary manner, to develop as a company and as individuals, and to be pioneers in our field.
Our goal is to be the best and most attractive employer in our industry. We have been systematically working towards this goal for many years and are by far the most popular employer of the field in Finland for industry professionals.
Terveystalo ranked as the most attractive employer among both industry professionals
Terveystalo is the most interesting workplace in the healthcare sector. Terveystalo has been investing in modern management and strong work communities for years. More than 1,500 health and pharmaceutical professionals chose Terveystalo as the most interesting workplace in the health service sector. Terveystalo has held the top position in the sector since 2020. The data is based on the annual employer image survey conducted by Universum, which evaluated nearly 60 operators from the public sector, private health service companies and pharmaceutical companies.
Changes in how professionals work and supporting people through change
We provide professionals with a smooth and efficient working environment and support them in changing their work. Digitalization has changed the work of health and well-being professionals and brought new skills requirements. Digitalization makes it possible to increase both the smoothness and productivity of work, allowing professionals to focus on customer encounters and problem-solving. Change also requires new approaches to management and remuneration.
When it comes to changes in the way professionals work and supporting that change, we are investing especially in improving the content and guidance of work by developing care guidance and care pathways. Care guidance based on care pathways aims to provide more consistent and effective care to our customers and facilitate the work of professionals.
The role of customer feedback is key in the development of work. Terveystalo's experts have asked for direct, personal customer feedback in addition to unit-specific feedback. The collection of expert-specific customer feedback was tested in selected units in the fall of 2022. The pilot was carried out in close cooperation with professionals. A larger-scale collection of personal feedback will start at the beginning of 2023 based on the good experiences of the pilot. According to the professionals involved in the pilot, the opportunity to receive personal feedback is also an important tool for professional development.
We provide our professionals with versatile, constantly evolving digital tools. The occupational health work ability management model, the Healthy Workplace Suunta service, the disability risk recognition of Etydi, the professionals' own work management mobile application Terveystalo Pro, and medical reporting support professionals in their work and provide tools for research work. We have also introduced new tools to support the work of professionals, such as the Terveystalo + Nightingale health index. Professionals can also utilize the customer-directed digital health and well-being content, guidelines and weekly programs found in the Terveystalo app in guiding and advising the customer.
We look after the health and safety of our employees
Occupational health care plays an important role in the identification of health risk factors and the prevention of illnesses. Our occupational health care and occupational safety in Finland are organized on a company-specific and regional basis in accordance with Finnish legislation, according to which the employer shall arrange occupational health care at its own expense in order to prevent and control health risks and problems related to work and working conditions and to protect and promote the safety, work ability and health of employees.
In addition to the statutory requirements, we provide our employees in Finland with a comprehensive range of primary health care, specialized care and well-being services, such as direct access to an occupational physical therapist and Mielen Chat and Mielen Sparri, digital services that support mental well-being. Mielen Chat and Mielen Sparri are low-threshold services that are provided remotely using the Terveystalo app. These services allow the user to discuss anything on their mind in strict confidentiality and they also provide tools to support mental well-being. Brief psychotherapy is also part of our occupational health services. We aim to recognize challenges related to work ability and occupational health at an early stage and seek solutions to these challenges through effective cooperation with occupational health services.
Our occupational health care provides occupational health services for our personnel throughout Finland. Thanks to centralized and goal-driven management, the content and practices of our occupational healthcare are consistent and produce good results. Labquality Oy has awarded our occupational health services an ISO 9001:2015 quality certificate.
In our Group, advice and guidance related to employee health and well-being at work, the assessment of work-related health risks, and the prevention and treatment of illnesses are part of our normal cooperation with our occupational health services and our insurance company partners. When it comes to the treatment of serious illnesses, we cooperate with primary health care and specialized health care.
During the COVID-19 pandemic, occupational health has invested heavily in upholding the personnel's work ability and medical care in a state of emergency. Sickness absences of personnel increased from the previous year, and the sickness absence percentage in Finland was 5.2 (4.4) percent of hours worked. In Sweden the corresponding figure was 5.5 (4.0).
The statutory occupational healthcare action plan includes the general objectives of occupational healthcare as well as the requirements based on workplace conditions and related measures. We review the action plan annually based on workplace visits and our company's work ability management needs, among other things.
Our occupational health operations are based on our Healthy Workplace model, which is aimed at ensuring that work is as efficient as possible, the work community functions well, the management approach is active, and individuals have a high level of well-being at work. In occupational health, the company, the personnel and the occupational health services work together in accordance with the set goals. The action plan is available to the personnel on the company's intranet.
Terveystalo's private practitioners are not covered by occupational health care. Instead, as self-employed persons, they arrange their own occupational health care. Private practitioners are not in an employment relationship with Terveystalo. They decide on their own fees and provide services directly to customers as part of our service offering.
Occupational health services for the staff transferred from acquired entities are, as a rule, organized in accordance with the acquired entity's previous agreement at least for the duration of a transition period if the company in question is a subsidiary and it is not merged with Suomen Terveystalo.
There were no fatal accidents or accidents leading to serious injuries at Terveystalo in 2022. Our accident frequency in Finland was 15 (20) in 2022, which is clearly below the average in the healthcare sector (34).
In 2021, we started work on the development of occupational safety in Finland, as part of which we started to reform occupational safety operating models, tools and guidelines, and drew up an action plan of measures that we will implement over the next few years in order to ensure the safety of our personnel at work even better than before. The action plan includes, for example, occupational safety training, clarified safety responsibilities and new operating models for assessing occupational safety risks, among other things. In 2022, these development measures were implemented across the organization.
In Sweden (Feelgood), occupational health and safety is organized in accordance with Swedish legislation, and Feelgood has an ISO 45001 occupational health certificate.
We develop our know-how and Terveystalo as a workplace
Systematic and business-oriented personnel development, smooth work and responsible, good supervisor work ensure the well-being of our personnel, which in turn benefits our customers through better care and a positive customer experience. We require everyone at Terveystalo to have a defined set of professional skills that is based on the values that guide our operations. In Terveystalo, competence develops by doing, learning from each other and through training. During development discussions, the need for competence development is identified, and it is agreed how the development will be implemented. Terveystalo offers a wide range of vocational training and opportunities for learning at work. We also develop leadership and supervisor work, and support self-study between work by increasing opportunities for online learning, for example.
The growth of digital health has been strong in recent years. We have invested in training our personnel in the use of digital tools and channels, as well as their use in customer work. We provide training for physicians and nurses in the use of different types of remote services. The trainings include basic system training, trainings by type of appointment (video appointment, chat appointment), as well as in-depth further training on, for example, the assessment of care needs remotely, customer experience and guidance, and consulting services.
In 2022, we continued the development project aimed at streamlining the work of occupational health nurses and strengthening well-being at work. Pilots were carried out during the year, for example, for the planning and management of work. The implementation of the new operating models developed on the basis of the results of the pilots started in the fall. The new operating models support a consistent quality of service for our customers and strengthen work management and job satisfaction. According to the results of the professional survey, occupational health nurses' coping at work has improved thanks to the new operating models.
In addition, training courses aimed at different professions and supporting professional development were organized during the year. We also trained our personnel on data protection and security, as well as on operations in compliance with requirements and ethical guidelines. In 2022, we organized training in Finland for a total of 69,733 (79,847) hours, which corresponds to 7.0 (8.7) hours per employee.
In addition to internal training, we also engage in research and education cooperation with several universities and promote youth employment with trainee programs, among other things. In the fall of 2022, we launched a new trainee program for occupational psychologists, which includes 18 psychologists. During the program, participants will be able to grow and learn in the role of an occupational psychologist responsible for a customer, with the support of senior experts.
Work at Terveystalo takes place flexibly and independently of the place. Work goals and effectiveness determine the way work is done. Our Group services have moved to hybrid work, where the teams agree on the most effective way of working for them. The way of working is influenced, for example, by the smoothness of the work, goals, flexibility and the well-being of the personnel. We also encourage teams to meet regularly at the office. We have also developed flexible working opportunities for those of our professionals who work at the customer interface. Flexible work is now routine for physicians, occupational health professionals and those who work at our customer service centers, for example.
Specialization and training of physicians at Terveystalo
We want to guarantee our experts the opportunity for diverse career development, and actively develop specialization opportunities. Our occupational health specialization program is the most extensive of our specialization paths, and it is possible to specialize at almost all of our occupational health clinics in Finland. Our specialization training is carried out in close cooperation with the medical faculties of universities.
Dozens of students with a Bachelor's degree in medicine work at Terveystalo every summer. In the summer of 2022, the development of students' skills was supported by a tailored educational path at Terveystalo's summer school. The content and implementation of the eight-week summer school received praise from the students, and according to the feedback, the summer school offered the desired support for the early stages of a physician's career.
The diverse events and training we offer are available to all of our physicians. For the biggest medical specialists, our career experts also develop and organize training courses and events designed by specialization. We also offer physicians professional training at our annual medical convention. Through numerous online courses and webinars, Terveystalo's diverse career opportunities offer possibilities for work development as well as the chance to focus on appropriate work for each physician.
The medical supervisor plays an important role in the work community and we also train our experts in various managerial tasks. A physician can also work at Terveystalo in administrative development tasks or research work.
Personal development discussions as a tool for performance management and job satisfaction
At Terveystalo, annual personal development discussions are held with all full-time employees to support goal-driven and motivated work. The development discussion includes a review of the previous period's successes and learning together with the supervisor, and setting targets for the new period. In addition to addressing the goals for the previous and next period, the discussion covers competence, well-being at work, working in accordance with Terveystalo's defined professional skills, cooperation as well as long-term objectives and wishes. The themes discussed in the personal development discussion are revisited in one-to-one discussions held at least once a month and in more extensive half-year reviews. The personal development discussions are a key aspect of the practical implementation of Terveystalo's strategy, values and professional skills as well as performance management and the monitoring of the achievement of goals.
We also engage in active dialogue with the private practitioners working at Terveystalo. The private practitioner discussion is a regular personal discussion with the aim of developing cooperation and the conditions for work as a self-employed private practitioner at Terveystalo. Specialization-specific meetings and training organized throughout the year also support professional networking and medical guidance.
Terveystalo's professional skills are as follows:
Competent
My professional competence is extensive, and I share my competence. I have the courage and the will to develop and update my competence, and I seek solutions, challenge myself, and network with other professionals.
Caring
I build cooperation and trust between our professionals and our customers. I work in a way that is inclusive and encourages others and behave in a way that shows my respect for others.
Customer-oriented
I do everything I can to serve customers proactively, using the customer's needs as a starting point and ending up with a solution that serves the customer. I ensure that the customer knows their care path. I create a smooth and warm customer experience for the customer.
Productive
I work in a way that is goal-oriented and proactive. I achieve results in my work and by working together with our other professionals and our customers.
Responsible
I take responsibility for the quality of my work. I offer high-quality service to every customer. I also take responsibility for my work community by being friendly and treating all of the professionals around me equally well. We grow by growing together.
The professional survey is a key development tool
The professional survey is an important tool for improving internal practices and supervisor work. The survey is aimed at everyone working for Terveystalo in Finland, including private practitioners who work for the Group. A biannual professional survey maps experiences in well-being at work, management and the functioning of the work community, among others. The Employee Net Promoter Score (eNPS) is the key indicator of well-being at work and coping at work in the personnel survey. The indicator shows the proportion of the personnel and private practitioners who would recommend Terveystalo as a workplace to others.
In the 2022 professional survey, the eNPS recommendation index was 29 (32). Among the strengths of Terveystalo are the activities of work communities and cooperation in teams, as well as the work of immediate supervisors. In the development of professional experience, the aim is to nurture these identified strengths. Our aim is to have an eNPS recommendation index of 31 by 2025.
We promote diversity, equality and non-discrimination
We observe the principles of equality, fairness, and non-discrimination. We do not discriminate on the basis of race, age, ethnic or national origin, nationality, language, religion, belief, opinions, health status, disability, sexual orientation or other personal reasons or circumstances. In recruitment, we focus on the person's professional competence, the ability to take responsibility and the will to improve our operations and themselves.
In order to implement these principles, a work community development plan is regularly drawn up and updated at Terveystalo, as part of which issues related to equality and non-discrimination are also discussed. The work community development plan was last drawn up at the end of 2022.
We also treat our customers equally. We require all our healthcare professionals to comply with the Finnish Medical Association's and WHO's ethical guidelines, according to which it is the responsibility of the physician to promote health and prevent disease. According to the Finnish Medical Association's ethical guidelines, a physician should treat the patient according to their needs and treat all of their patients equally.
In accordance with the diversity policy of our Board of Directors, our objective is to have a balanced gender distribution in the Board of Directors. At the end of 2022, two of the five members of the Board of Directors were women. Four of the eight Management Group members were women.
The remuneration of our personnel is based on the principles of performance, equal treatment and competitiveness. For jobs that fall under collective agreements, such as nurses, the pay categories correspond to the classifications specified in the collective agreements. Pay is also influenced by job-specific responsibility supplements and the employee's years of experience. For senior salaried employees, pay is determined based on the position and the demands of the job as well as other factors, including competence, experience, performance and results. The company-specific equality plans are focused on the equality of remuneration and are aimed at promoting equal pay. Gender, for example, cannot be a factor that influences pay.
We want to be an open and safe place to work and do business for everyone, regardless of sexual orientation, gender identity and gender expression. In the summer of 2022, we asked our personnel for ideas to promote these goals. We received good development ideas for better consideration of sexual and gender minorities in work communities and customer encounters. We also identified interest in participating in the activities of the working group promoting equality. The purpose of the working group is to develop the implementation of equality, especially from the perspective of sexual and gender minorities. The composition of the working group, which will be launched at the beginning of 2023, will change each year so that as many people as possible will have the opportunity to participate. Ten people from different backgrounds were selected for the working group.

In 2022, we were one of the official partners of the Helsinki Pride event. We also offered our personnel training on how to meet sexual and gender minorities in healthcare services.