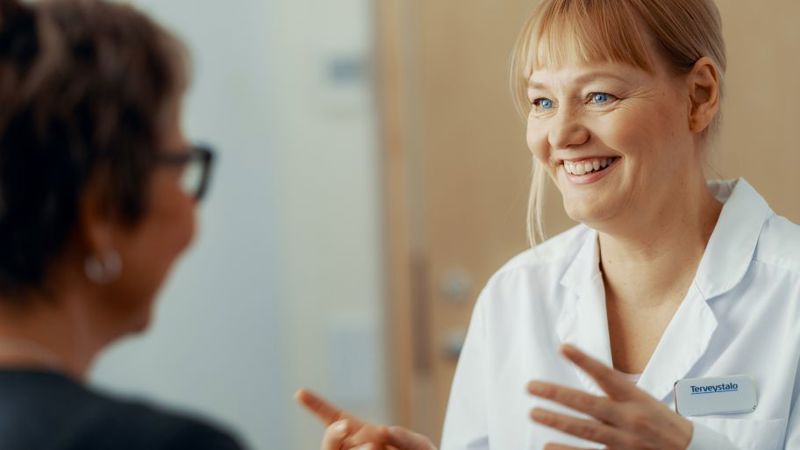 Quality and responsibility
Good health and well-being
All members of our personnel are responsible for ensuring that our customers receive appropriate, high-quality and safe care. We aim to stand out by providing an outstanding experience in all customer encounters, regardless of the channel. We develop our work by listening to our customers and utilizing new technology.
Quality and impact are at the core of our operations
We are committed to the high quality and continuous development of our operations. We measure, monitor and manage our quality actively. Developing our service quality and operational efficiency even further allows us to ensure the best possible working conditions for our professionals and the optimal impact of our customers' service experience, without compromising on the all-important aspects of human contact and empathy.
We divide our quality-related work into four areas:
Clinical quality
Health care must be based on evidence and good care and operating practices, and it must be high quality, safe and appropriately implemented. At Terveystalo, we actively monitor, measure and manage clinical quality.
Operational efficiency
Streamlined processes ensure the smart allocation of resources and the reliability of operations. All services provided by Terveystalo are based on our comprehensive and certified quality management system. Our customers can always trust the quality of our care, the smooth use of services, and the efficiency and safety of our services. In addition, we promote pleasant and efficient everyday life by developing our expertise and management. Our comprehensive network, digital tools and extensive service range constitute a platform for providing efficient, personal and local services for customers.
The customer's experienced quality
The customer's experience is always personal and develops through every encounter. It is important to us that customers receive the care they need without delay and they are encouraged to make choices that promote their well-being. Our objective is to be the preferred provider of healthcare services for all customer groups.
The professional's experienced quality
We believe that satisfied employees provide a better customer experience in customer encounters, and so enhancing customer satisfaction. The realization of the strategy requires that we are able to attract qualified and motivated health care professionals to Terveystalo and retain them. This enables us to achieve clinical quality, superior service experienceand operational efficiency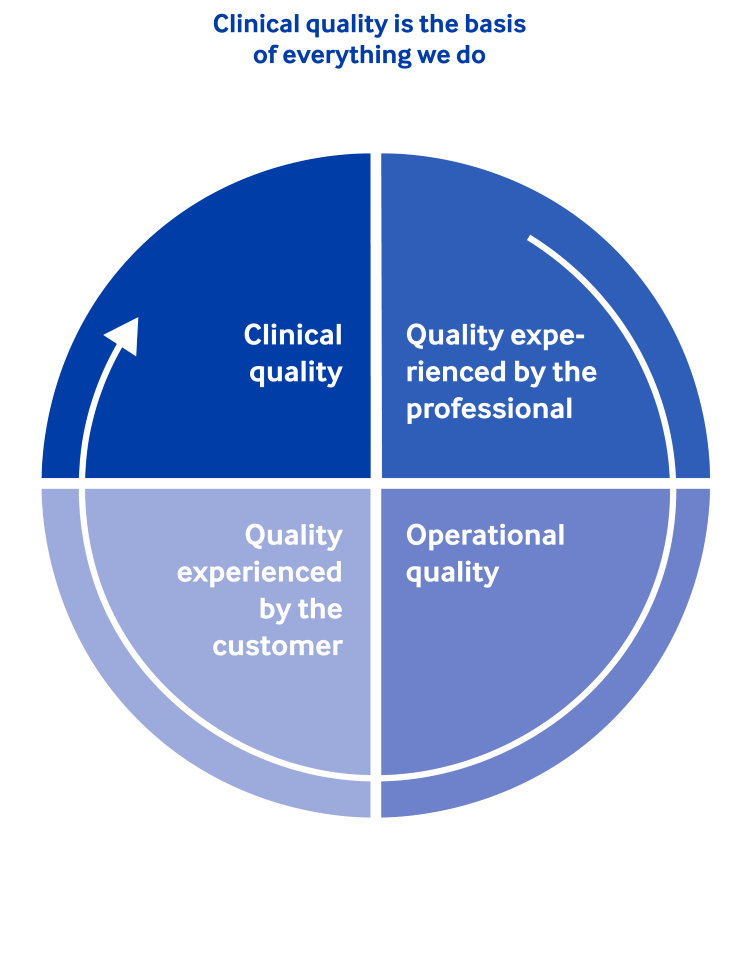 Quality management at all levels of the organization
The cornerstones of our quality system are patient safety and the national legislation governing the field. Our quality assurance system is a management system that provides a framework for managing quality and effectiveness at all levels of the organization. Our strategic priority areas, joint processes and measurability guide us towards consistently high-quality operations. Continuous improvement of our operations is an essential part of our quality efforts. The objectives of our quality-related efforts also include ensuring service availability, patient safety, an excellent customer experience, compliance with recommendations, data protection, information security and the development of the effectiveness of care. The Group's quality steering group monitors the achievement of the quality objectives quarterly using quality indicators.
Patient safety is the foundation for quality in health care
Clinical quality is a continuously monitored and developed key element of our quality efforts. Clinical quality refers to the patient receiving the right treatment at the right time and in the right manner, and that treatment has no avoidable adverse effects. We ensure service quality, safety, customer orientation and productivity through consistent operating methods, the continuous training of our experts as well as modern premises and technology. We manage patient safety by monitoring the number of procedure and clinic-specific post-surgery infections, hazardous events, official requests for clarifications, and the decisions of the Patient Insurance Center, among other measures. We ensure the safety and effectiveness of the provided pharmacotherapy by medication plans, operating guidelines, and a basic range of drugs.
Each year, the themes, priorities and strategy of patient safety at Terveystalo are chosen by the Group's patient safety team and confirmed by the quality steering group. This work is supported by internal and external audits. In 2021, the patient safety themes were improving the patient safety culture and data protection. The priorities were pharmacotherapy permits, treatment of patients' first-aid situations as well as aseptic behavior and hand hygiene. The clear structures and strategy of patient safety are aimed at effective cooperation to improve patient safety within clinics, throughout the organization, with the supervisory authorities and particularly in practical work with patients.
A good patient safety culture means having an open atmosphere in which employees are able to highlight any shortcomings or hazards (near misses/hazardous incidents) they observe in their work treating patients, without fear of sanctions or blame. Shortcomings and hazardous incidents are addressed openly and carefully to ensure that the issue does not reoccur. Terveystalo conducted a patient safety culture survey in 2021 as part of the patient safety theme year 2021. The aim of the survey was to assess how patient safety is visible in Terveystalo's day-to-day operations, what the personnel's perceptions are regarding the realization of patient safety, the current level of patient safety at Terveystalo and what issues we should focus on in the development of our patient safety culture. The feedback received from our professionals who work with patients provided valuable input for our development efforts. Based on the results, we will start development measures at the unit, regional and Group levels.
The quality index measures clinical and experienced quality
We continuously develop our services, the quality and effectiveness of provided care and the service experience of our customers. We measure clinical, experienced and process results based on international best practices.
Terveystalo uses a quality index that consists of four components:
high clinical quality
availability of care
preventive care
experienced quality from the professional's perspective and the patient's perspective
use of the WHO Surgical Safety Checklist in surgical operations
prescriptions for drugs affecting the central nervous system relative to the number of physician's appointments
duration of sickness absence issued on the day of operation for repair of the rotator cuff and the anterior cruciate ligament
percentage of preventive work of occupational health appointments
availability of care as measured by T3 (the third available appointment)
Net Promoter Score (NPS) for appointments
employee Net Promoter Score (eNPS)
In 2021, we continued to develop quality and effectiveness reporting and also adopted new quality indicators. We published a set of 25 quality indicators on our website.
We perform surgeries in our network of 18 hospitals. We systematically apply the WHO Surgical Safety Checklist before the start of each procedure. It is a standard list of questions to check safety issues relevant for the operation in the OR. In 2021, the WHO Surgical Safety Checklist was used in 99.8 (97.8) percent of the operations we performed.
When used appropriately, drugs affecting the central nervous system are effective and necessary. However, because of their adverse effects, their use requires careful discretion by a physician. We have a special project aimed at promoting the safe use of drugs affecting the central nervous system according to clinical guidelines in patient care. To harmonize prescription practices, we have prepared detailed guidelines for prescribing drugs affecting the central nervous system based on legislation, Current Care Guidelines, Smart to Avoid Recommendations, guidelines issued by the National Supervisory Authority for Welfare and Health, and operating models proven in clinical work. In 2021, our clinics wrote prescriptions for drugs affecting the central nervous system for 4.3 (4.6) percent of visits to a physician.
Our surgical operations aim to provide swift high-quality care pursuant to care criteria to quickly restore the patient's functional capacity and ability to work. We systematically develop the treatment chain for our surgery patients. Our aim is to enable faster recovery and return to work. Correctly prepared surgery implemented without delay as well as a plan for early rehabilitation and return to work play a key role in this. The average length of sickness absence issued on the day of operation for surgical repair of the rotator cuff and the anterior cruciate ligament was 32 (36) days in 2021.
Work not carried out is expensive for Finnish companies. Therefore, it pays to invest in work ability management through preventive measures. Effective work ability management requires that organizations know what kinds of risks to work ability they are managing. With targeted health examinations, we survey the organization's health and work ability risks and obtain information to support the management efforts. Our occupational health examinations always include an electronic, scientifically validated health survey. The survey is a self-assessment for the employees. Based on the survey, we can identify possible risks related to health and work ability. With the survey, we can target measures particularly to those with significant risks. In 2021, preventive work accounted for 70.2 (67.8) percent of all of our occupational health appointments.
We continuously develop the availability of care by managing the balance between supply and demand as well as by developing our digital services and the work of our professionals. We measure the availability of care by the T3 indicator, which is the number of days until the third available non-urgent appointment at our clinics. The figure indicates how quickly a customer can have an appointment with a physician. The T3 indicator for appointments
with a physician was 1.61 (1.17) in 2021. In addition to physical appointments, the availability of care is enhanced by digital general practitioner appointments available 24/7. In addition, digital mental well-being services also lower the threshold for seeking treatment.
We aim to stand out by providing an excellent experience in all customer encounters. We develop our work by listening to our customers and utilizing new technology. NPS (Net Promoter Score) is our most important indicator of customer satisfaction. We collect feedback with SMS and browser-based surveys, and we are continuously adding NPS measurements at new customer encounter points. In 2021, the NPS for our appointments was 83 (83). The NPS for our hospital services remained at a high level at 94.7 (94.4).
We want to be the most attractive workplace for professionals. The professional survey is one of our most important tools for improving internal procedures and supervisor work. The survey is aimed at all of Terveystalo's professionals, including private practitioners. In the employee survey, the employee Net Promoter Score (eNPS) is used as a key indicator of well-being and coping at work. The eNPS figure indicates the proportion of our employees and private practitioners who would recommend Terveystalo as a workplace to others. Our eNPS continued to develop favorably in 2021 and rose to a good level at 32 (18). The professionals' experience at Terveystalo improved in all key areas in 2021.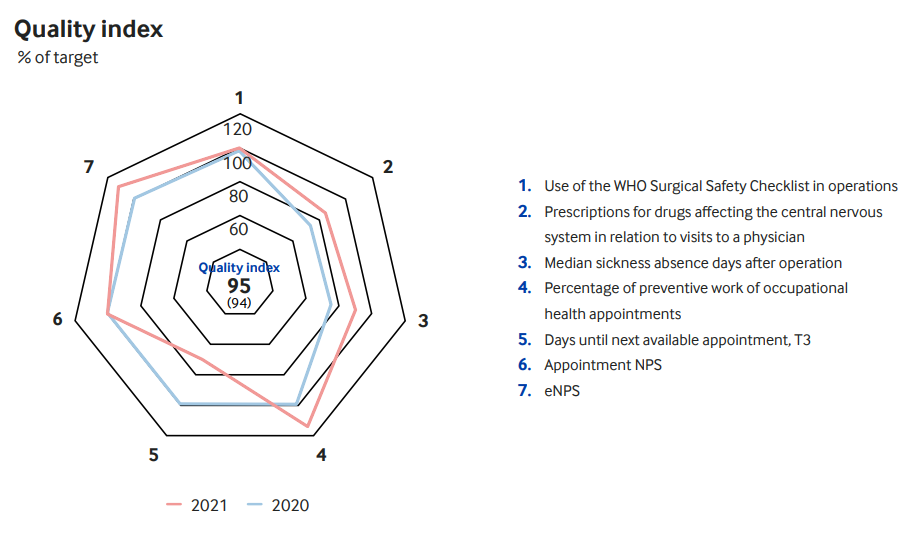 Care guidance is developed by means of consistent care protocols
Science-based care guidance is developed with the help of consistent care protocols. Our goal is to support professionals and customers in planning and implementing increasingly effective treatment by making it easy to make day-to-day decisions in line with care protocols. The care protocols are treatments defined by Terveystalo, based on the Current Care Guidelines and other generally accepted clinical recommendations, to treat a given illness or ailment for which a customer seeks treatment. Our aim is to first define 6–8 care key protocols, which helps us model this new approach. The first care protocols we have adopted are for treating lower back pain, depression and anxiety.
For professionals, the care protocols propose suitable next steps on the customer's care path. Together with the customer, the professional then decides which of the proposals to put into action, taking the customer's individual situation and needs into consideration. Customers can also be given direct guidance, for example in the case of reminding them of a laboratory referral that has yet to be used, a national recommendation concerning influenza vaccination, a referral to a COVID-19 test or some other simple care protocol.
We aim to support customers in various ways, including reminders on digital channels regarding the next steps of their treatment and by maintaining active contact with customers to ensure that treatment is carried out appropriately. For the patients, this means a clearer, smoother and more predictable care pathway through our digital services and during appointments with our professionals. For our professionals, the care protocols provide tools that make their work easier as well as clearer and smoother work flow.
A new well-being service to support lifestyle changes
In September 2021, Terveystalo launched the first consumer version of an entirely new kind of well-being service that is based on blood analyses by the health technology company Nightingale, a health index based on the blood analyses as well as digital well-being content and programs put together by Terveystalo's experts. The blood analysis technology is one of the world's most widely used next-generation medical research tools and it has already been used for over a million blood samples. The effectiveness and benefits of the technology have been proven in over 300 peer-reviewed scientific publications and the technology has passed the European health care regulatory requirements. Nightingale's biotechnology uses algorithms based on large data masses to refine data obtained from blood samples into clear and easily understandable information on health risks. Nightingale's specification method makes it possible for Terveystalo to incorporate state-of-the-art medical technology into a new kind of well-being service. The service was launched in the form of a Terveystalo + Nightingale well-being membership that includes three annual samples taken at Terveystalo's laboratories as well as regular coaching content and weekly programs focused on physical activity, nutrition, sleep and recovery. The service is used via the Terveystalo app.
An operating model for effective work abilitywork ability management and using AI in risk identification
We updated our operating model, tools and indicators related to work ability management in 2021. The outcome is the Healthy Workplace operating model, by which we create measurable value for our customer companies. A healthy workplace is not created by chance, but through planning. This requires information to support the management of employee work ability, anticipate risks and create ways in which we can work together to build healthy work communities from healthy employees and successful companies from healthy work communities. There are multi-dimensional and strong links between work, work ability and health. The Healthy Workplace operating model enables cooperation to build a workplace that strengthens the individual's work ability and the community's ability to function. When work is meaningful and work ability is effectively managed, employee well-being improves while the risk of work disability and work left undone are reduced. Healthy individuals not only help a company achieve a high level of well-being, they are productive and work effectively together to achieve the organization's goals.
We use AI to support work ability management. We rely on research-based data and use academically validated indicators that have been proven to predict potential work ability risks and prolonged sickness absences. The AI-assisted Etydi system we use helps health care professionals identify potential work ability risks at an earlier stage. The system screens the employees for even weak signals of work disability to be able to target measures at the right people. AI also combines the results of each individual's Health Survey with the data it collects, providing good visibility into the organization's risks and ability to influence them. Our occupational health team provides the organization with information and proposals concerning risk factors that the organization should focus on.
Suunta service brings together the best tools for occupational health care cooperation
Our Suunta service enables effective digital occupational health care cooperation. To create the service, we have brought together everything the customer organization needs to build a healthy workplace community. The Suunta service includes work ability management tools, the planning of operations, occupational health care cooperation tools and reporting as well as other occupational health care customer systems and functionalities in a single user interface. Predictive and preventive indicators of work ability risks are compiled into the Etydi artificial intelligence used by professionals.
To our customers, the results of this work are visible in the form of work ability management indicators. Suunta provides the opportunity for continuous dialogue between the customer and Terveystalo, and it also brings transparency with regard to the quality, effectiveness and costs of occupational health care cooperation.
The award-winning Terveystalo app brings health services close to the customer
At Terveystalo, a physician, nurse or therapist can also be consulted remotely via video or chat. Digital services efficiently improve the availability of care and lower the threshold of seeking treatment. Our Terveystalo app provides, for example, access to the Doctor Chat in approximately seven seconds 24/7, every day of the year. Our low-threshold Mielen Chat for mental well-being is also available to our occupational health customers 24/7, every day of the year. Through our Terveystalo app, our customers can renew prescriptions, get referrals for laboratory tests and communicate with the nurse or physician responsible for their care. Clearly visualized laboratory test and imaging results are always available in the app. The app also provides the customer with a personalized health plan called Oma Suunnitelma. In addition, the app sends personal health-related reminders. The Terveystalo mobile application has over 500,000 active users and as many as 1.7 million Finns have registered as users of our digital services.
Terveystalo becomes a manufacturer of software-based medical devices
In August 2021, Terveystalo became the first health service provider in Finland to receive an ISO 13485 quality management system certificate. With the certificate, Terveystalo becomes a manufacturer, distributor, seller and marketer of software-based medical devices. For Terveystalo, the certificate is a strategic competence that enables the product development of smart software used in health care. The sales and marketing of medical devices is subject to the product being CE marked, which in turn is subject to the product being designed and manufactured in compliance with the ISO 13485 quality management system and the provisions of the Medical Device Regulation. The certificate awarded to Terveystalo proves that Terveystalo's processes meet the requirements set for manufacturers of medical devices.
The Biobank builds well-being for the future
Biobanks make samples and data available to high-quality research and product development projects that aim to find the causes of diseases and promote general health. The goals of Terveystalo's biobank are the promotion of the population's health, the identification of factors involved in disease mechanisms, the prevention of diseases and the development of products or treatment practices that promote the population's well-being or health or that are used in medical care. We investigate the causes of diseases and support the development of products and treatments used in health care. Our biobank also promotes scientific research related to COVID-19. Terveystalo's biobank has been awarded ISO 9001:2015 quality management system certification.